ENTREVISTA: LINDA PALUC LA GRAN REVELACIÓN DEL MOUNTAIN BIKE
Hace unas semanas atrás conversamos con la revelación de Pinkbike. Linda Paluc se tomo un tiempo y converso con nosotros...
Hace unas semanas atrás conversamos con la revelación de Pinkbike. Linda Paluc se tomo un tiempo y converso con nosotros jeje gracias a toda la magia de las redes sociales y al staff de allbikers.
Linda Paluc ha sido conocida por la serie de vídeos que tiene publicados en PinkBike en donde bajando con su Demo 8 gracias a Specialized, bueno esto fue lo que nos comento la chica Mountain Bike.

Linda, de donde eres?(Linda, where are you?)
Bueno, actualmente en mi cama respondiendo estas preguntas Pero menos específicamente, estoy en Maribor, es una pequeña ciudad en Slovenia (Europa Sur-central).
(Well, currently I'm in my bed, answering these questions But less specifically, I am in Maribor, which is a small town in a small country Slovenia (Southern central Europe).)
Como llegaste a practicar el descenso?(How did you start riding in downhill?)
Siempre he sido un poco loca, he andado en caballo casi toda mi vida, luego empesé con el snowboard a los 13 años, y para cuando ya tenía 15/16 años, empesé en el mountainbike. Tuve 3 grandes amigos, quienes siempre me prestaban sus bicicletas y me decían, que yo definitivamente debería comprarme una, por que era algo que lo llevaba en la sangre. Así lo hice y acá estoy.
(I was always a bit crazy, I was riding horses for most of my life, then I started snowboarding at 13 and when I was 15/16, I also started mountain biking. I had three great friends, who always lend me their bikes and told me, I should totally buy one, because biking is in my blood. So I did and here I am.)
Como es un día normal para tí?(How is a normal day in your life? (Schedule))
Un día normal en mi vida es bastante sencillo: Me levanto, voy al colegio, vuelvo a almorzar y luego entreno o salgo a escalar/andar en bic con mis perros, en la tarde escribo mail para mi trabajo y un proyecto de video que estoy realizando. Pero también hay días que tengo que manejar a lo largo de toda mi ciudad, para ir a un millón de reuniones, luego voy a hacer snowboard o al bike park a disfrutar con los amigos –la mayor parte de mi itinerario es bastante ocupado.
(A normal day in my life is pretty simple: I wake up, go to school, come home and make lunch, then I train or go hiking/pedaling with my dogs, at the evening I write a bunch of emails for my job and my video projects. But then there are also days when I have to drive all around my country, to go on million meetings or days when I go snowboarding or bike park shredding with my buddies – most of the time, my schedule is pretty full.)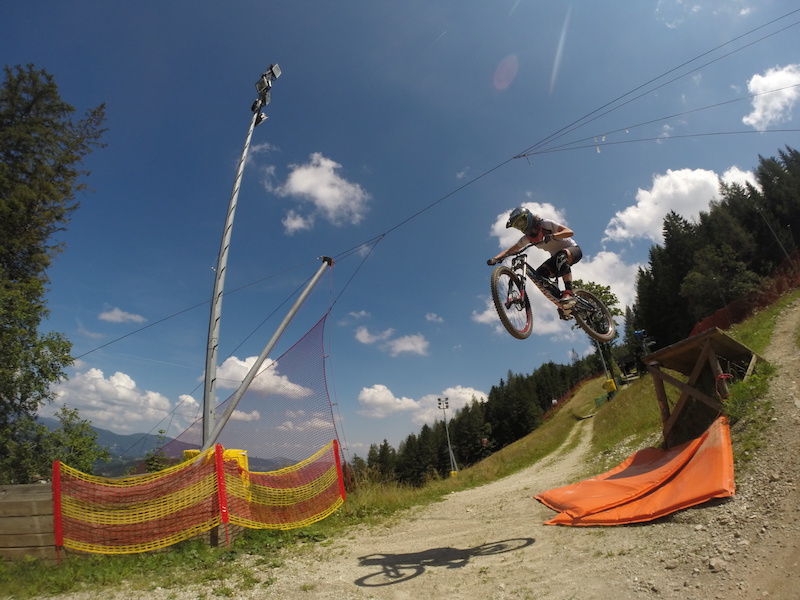 Cual ha sido tu mejor carrera?(What has been your best race?)

Es triste decirlo, pero como lo he mencionado varias veces, yo no compito. Si lo he intentado, pero el estress es mucho para mi y en algunos casos, simplemente no encontraría el tiempo ni el dinero para hacerlo. No me entiendas mal – Yo amo entrenar y andar, como si fuese competidora y sería mucho más feliz si pudiera disfrutar compitiendo, pero simplemente no puedo. No soy una persona competitiva y he enfocado mi carrera de MTB en hacer videos, lo cual también requiere mucho trabajo, dedicación y paciencia.
(Sad to say, but as I mentioned many times, I do not race. I have been trying, but the race stress is too much for me and sometimes, I just wouldn't even find the money and time. Don't get me wrong – I love to train and ride, as if I was a racer and I would be much happier if I could enjoy racing itself, but I just don't. I am not a competitive person and I have rather focused my mtb career into videography, which also requires tons of work, dedication and patience.)
Cuantas horas entrenas, y que deporte haces aparte del Descenso?(How many hour a day you train, and if you do another sport besides Downhill?)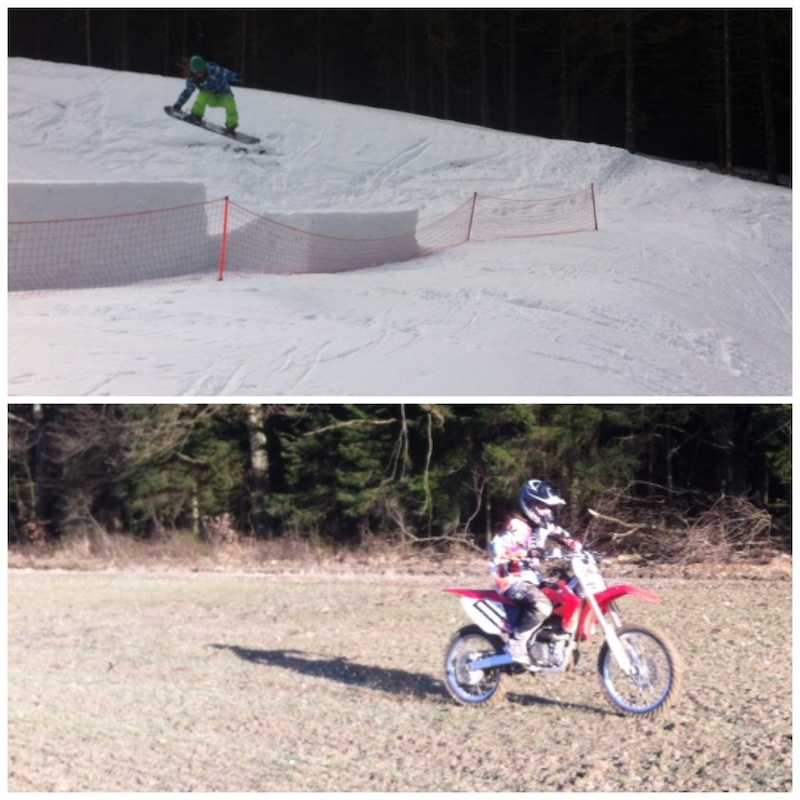 Generalmente entreno 2-3 horas cuando voy a escalar o pedalear, pero cuando hago crossfit es solo 1 hora, así que básicamente depende del tipo de entrenamiento que esté realizando. Y porsupouesto, amo los deportes y ni siquiera puedo decidirme cual me gustaría hacer. Por ahora el Mountain Bike y el snowboard son mis deportes principales, pero también hacía wakeboard y algunas veces en el verano wakesurf, y me gustaría probar wave surfing. También disfruto hacer motocross con mi novio (Pololo), así que si, hago otros deportes!
(I usually train about 2-3 hours when I go hiking or pedaling, but when I have crossfit training, it last an hour, so basically, it depends on what kind of training am I doing. And of course, I love sports and I can't even decide what all would I like to do. For now are mountain biking and snowboarding my main sports, but I used to wakeboard and sometimes in the summer I wakesurf, I would like to try wave surfing and I love to ride my boyfriends mx-bike. So yes, I do other sports!)
Con tu último vídeo alcanzaste más de 50 mil reproducciones en pinkbike,  que sensación te da al saber que eres una súper estrella del Downhill femenino? (With your last video, you reached more than 50 thousand views (?) on pinkbike, what is your feeling about being a Downhill Rockstar?)
Bueno, el último no alcasó taaaanto (jaja). Tuve casi medio millon de visitas en el secundo, el cual me hizo sentir increible. Estaba tan agradecida y orgullosa, de que a la gente le haya gustado y compartido por todo el mundo! Es un sentimiento increible, cuando la gente también disfruta de mi trabajo tanto como yo lo hago. Pero no podría llamarme una "Rockstar" del downhill, yo solo diría que soy una chica, que ama las bicicletas y comparte su pasión con le mundo.
(Well the last one didn't even reach that much (haha J). I got almost half a million (500.000) views on the second one, which made me feel amazing. I was so glad and proud people liked it and shared it all over the world! It's an amazing feeling, when people also enjoy my work as much as I do. But I wouldn't call myself a downhill rockstar, I would just say, that I'm a girl, that loves bikes and shares this passion with the world!)
Eres fans de algún deportista de Downhill? (Are you a fan of any Downhill rider?)

Sin duda que lo soy!!! y de muchos riders!. Pero probablemente diría que Martin Söderström y Josh Bryceland son mis riders favoritos. Los adoro por su tremendo y único estilo de andar!
(With no doubt I am! I am a huge fan of many riders. But I would probably say that Martin Söderström and Josh Bryceland are my favourite riders. I adore them both for their amazing-one of a kind style!)
Que marcas o sponsor te acompañan en la práctica de este deporte? (Who sponsor or supports you in this sport?)
Mis sponsors son Specialized, Alpinestars, GoPro y Ride100Percent. También una tienda local –Factory Store Slovenia– que me dan mucho soporte y una organización estudiantil de mi ciudad llamada KMS. Gracias a todos!!!
(My sponsors are Specialized, Alpinestars, GoPro and Ride100Percent. There is a local store – Factory Store Slovenia – that also gave me a lot of support and a student organisation in my town called KMŠ. Thank you all!!!)
Te gustaría visitar Sudamérica en especial Chile? (Would you like to visit South America, particularly Chile?)
Si soy honesta. He soñado toda mi vida con visitar America del Sur. Siempre he querido conocer Chile y Perú. Estos lugares me parecen increibles, con una naturaleza hermosa, especialmente montañas. Realmente espero poder visitar algún día.
(If I'm honest, I've been dreaming my whole life about visiting South America. I always wanted to see Peru and Chile. These places seem amazing to me, with all the gorgeous nature, especially mountains. I really hope that I can visit one day!)

Que vienen para ti el 2015? (What are your visión/ expectations for 2015)
Con el equipó de filmación tenemos grandes planes para la siguiente temporada. Nos gustaría filmar con gente interesante, en las localidades más llamativas de Europa. No te dire mucho –Dejemos que sea sorpresa!!!

(Me and my filming crew have great plans and ideas for next season. We would like to film with interesting people, in the most interesting locations all over Europe. I will not tell too much – let's keep it a surprise! )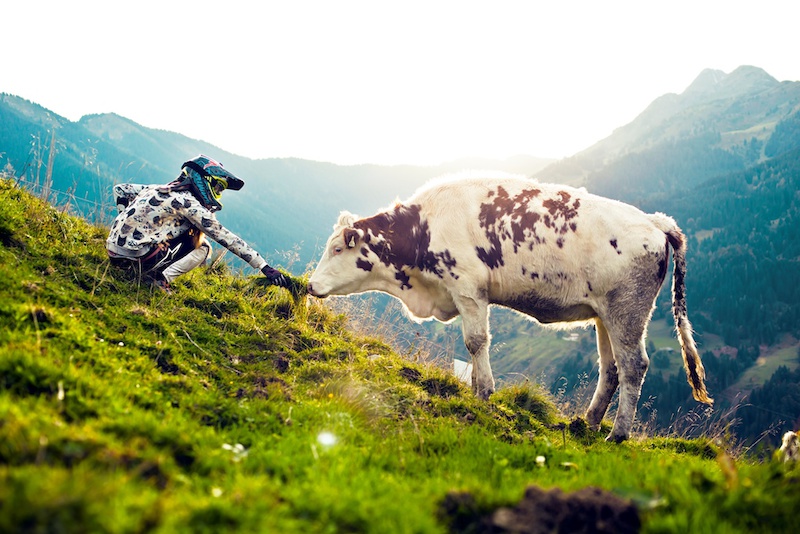 Agradecimientos? (Gratitude for anyone?)

Agradecimientos para toda la gente que me ayuda a alcansar mis sueños –especialmente al equipo de filmación- Mitja Kodrič, Matej Gostinčar, Janez Kocek, Klemen Humar y Rene Strgar. Y porsupuesto a todos mis amigos y familia.
(Gratitude for all the people who help me reaching my dreams – especially my filming crew – Mitja Kodrič, Matej Gostinčar, Janez Kocek, Klemen Humar and Rene Strgar. And of course props to my friends and family!)
Agradecemos la simpatía de Linda Paluc en esta pequeña conversación que tuvo junto al equipo de Allbikers.cl, desde ya te dejamos invitado para que sigas su cuenta de PinkBike, Instagram y Twitter.
twitter.com/lindapaluc
www.pinkbike.com/u/lindapaluc/
instagram.com/lindapaluc
Agradecemos el aporte de traducción gracias a  David "Sufle" Salas.
Subir
Por allbikers ,
29 diciembre, 2014